New Patient Information
The following information is for anyone considering being seen as a new patient at Pacific Psych. New patients are expected to read the sections that apply to them prior to being scheduled for their first visit. If a new patient has questions on any of this information, either our administrative staff can answer at the time of scheduling, or they can ask the provider during the initial appointment, depending on the nature of the question(s).
General Clinic Information
We accept most insurances for psychiatric services and for TMS, but unfortunately we do not accept Medicare or Medi-Cal. Insurances do not cover IV ketamine with the exception of Kaiser Permanente.
A $150 deposit is required to hold/confirm new patient appointments. The deposit will be refunded when seen for the appointment or if canceled or rescheduled with at least one full business day notice.
We do not diagnose or treat pain conditions.
We do not see patients under the age of 18 or over the age of 64.
Late-Cancel/No-Show Policy:

Appointments canceled or rescheduled with less than one full business day notice will be assessed a Late-Cancel fee.
Appointments that are not canceled and not attended will be assessed a No-Show fee.
Patients with two consecutive or three cumulative Late-Cancels or No-Shows are subject to dismissal from the practice.
Late-Cancels or No-Shows to initial appointments will not be rescheduled and deposits will not be refunded.
Late-Cancel/No-Show Fees:

New Patient Appointment: $150
Psychiatry Appointment: $75
Psychotherapy Appointment: $75
IV Ketamine Infusion: $150
TMS Appointment: $25

Communication Policies: All messages to providers are to be directed to the clinic at (858) 261-4622 or via the webchat device on the Pacific Psych website.  Messages will be triaged appropriately by the administrative staff depending on level of urgency.
Telemedicine
Psychiatry appointments, TMS and Ketamine Consultations, and Psychotherapy appointments may be conducted via telemedicine.
Telemedicine is done through our patient portal called OnPatient.
Patients must register through the patient portal and sign all treatment consents 24 hours prior to the scheduled appointment.
Patients must log in and be ready for the visit to begin a minimum of 10 minutes prior to the scheduled appointment time.
Psychiatric Services
We accept most insurances, but unfortunately we do not accept Medicare or Medi-Cal..

Self-pay rate for the initial consultation: $250 
Self-pay rate for follow-up appointments: $200

We do not prescribe benzodiazepines.

Examples of benzodiazepines: Xanax (alprazolam), Klonopin (clonazepam), Valium (diazepam), Ativan (lorazepam), and Restoril (temazepam).

Prescription Writing/Refill Policy

All prescribing is done during the psychiatric appointment.
Quantities of medications, including appropriate refills, are provided to patients to get the next planned or scheduled appointment.

If a patient needs a refill due to not scheduling or missing an appointment, a $25 fee per medication will be assessed.
If a patient needs a refill due to a prescriber or pharmacy error, fees will not be assessed.
All prescription refill requests must be done via the Medication Refill Request Form on the Patient Resources page on the Pacific Psych website.

All medication adjustments must be done during appointments, not via email or phone call.

ADHD Patients

Prior to starting a stimulant medication, an in-office appointment, psychological testing, and drug screening is required.
Testing can be done at our office or a referral can be made.

Psychological testing (in-office): $250 (Out-of-Network)
Drug screen: $50

Monthly psychiatric follow-up appointments are required for patients prescribed stimulants for the first six months of treatment, when bi-monthly appointments may be approved.
Patients prescribed stimulants may not use illicit substances or cannabis/THC products.
Patients are required to sign an agreement to the above ADHD policies prior to being prescribed medication.
Psychotherapy Services
Our therapists are all Marriage and Family Therapists (MFT).
Our therapists are Out-of-Network, and payment in full is required prior to being seen.

Rates for psychotherapy are $140 for new appointments and follow-up sessions.
For patients with Out-of-Network coverage, a superbill can be provided upon request, which can be submitted for potential reimbursement.
Injectable Ketamine Therapy
Ketamine is not FDA-approved to treat depression. It is used as an "off-label" treatment for psychiatric indications. It is FDA-approved for use as an anesthetic.
Patients are not allowed to drive until the morning following the treatment.
Insurance companies will not reimburse for ketamine treatments. Payment in full is required prior to the treatment being administered.
Typically, patients do an "induction phase," which is 6 treatments done over 2 weeks, and if symptoms have responded or remitted, patients transition to a "maintenance phase," which is one treatment every 2-6 weeks. Each patient is different, and treatment recommendations can vary depending on circumstances.
Patients should not use drugs or excessive alcohol for 24 hours prior to ketamine infusions being administered.
Fees for IV ketamine infusions are $550 per infusion.
Fees for IM ketamine injections are $375 per injection.
Transcranial Magnetic Stimulation (TMS)
TMS is an FDA-approved, non-medication treatment for depression and OCD.
TMS is typically a covered expense for those with commercial health insurance plans.
To be approved by insurance plans, it is required to try and fail several psychiatric medications.
TMS consultations are completed by our psychiatrist or our physician assistant depending on availability.
TMS consists of 30-36 treatments done 5 days per week over 5-9 weeks, and each TMS treatment takes less than 15 minutes.
Patient Forms
For your convenience we have provided these fillable PDF forms for patient use. Please download and complete the form(s), and return to the office at Office@PacificPsychCenters.com. Be sure to include any appropriate attachments or additional information.
Release of Health Information (PDF)
Medication Refill Request
For medications refill requests, complete the "Medication Refill Request Form" as thoroughly as possible. Refill requests will be processed within one business day. For more urgent requests, complete the form and contact the clinic via phone at (858) 261-4622 or via the web chat device on the bottom right corner of all pages on this website.
Insurance Accepted
At this time, patients are able to use their health plan benefits for initial consultations for TMS and injectable ketamine therapy and medication management psychiatrist Dr. Jake Hollingsworth. Insurance can be used for TMS therapy as well. Ketamine is not a covered benefit for most insurance plans. However, Pacific Psych is now contracted with Kaiser Permanente (KP) of San Diego to provide IV and IM ketamine therapy. Patients with KP health plans should inquire with their KP psychiatrist regarding the potential to be referred to Pacific Psych for covered injectable ketamine therapy. For new patients interested in psychiatric medication management, we have several options and the availability of psychiatric providers and which providers are in and out of network . The following PPC providers are currently accepting new patients for psychiatric medication management: Dr. Jake Hollingsworth, Dr. Amanda Franciscus and PA Rafael Ramos. Please call the office for detailed information (i.e., rates, availability, etc.).
We welcome members of Anthem Blue Cross, Blue Shield, Magellan, MHN, Aetna, Tricare, Optum, United Healthcare, Cigna, and HealthNet.
Unfortunately, we cannot accept Medicare or Medi-Cal.
Telepsychiatry
Through telemedicine, we can accomplish new-patient and follow-up psychiatric evaluations, psychotherapy sessions, and consultations for referral into our interventional treatments, such as Transcranial Magnetic Stimulation (TMS) and injectable ketamine therapy.  
Telepsychiatry is billable to all insurance plans, subject to our network status, just as if patients were seen in-office. Co-payments, co-insurances, and deductibles apply. Self-pay psychiatry rates apply for those without insurance.
To be scheduled for a telepsychiatry evaluation, please contact our office directly via our website, email, or by phone. Telepsychiatry appointments are done through our clinic's patient portal, called OnPatient. Once scheduled by our staff, you will receive a link via email that you will need to click prior to your appointment, which will take you to the portal where you can check in for your appointment, sign any consent forms,, and then wait for your provider to start the visit.
On the day of your scheduled telemedicine appointment, please log in 15 minutes in advance of your scheduled time to allow time for troubleshooting and to keep on schedule.
We look forward to seeing you online!
Schedule Appointment
Please call or email to schedule an appointment.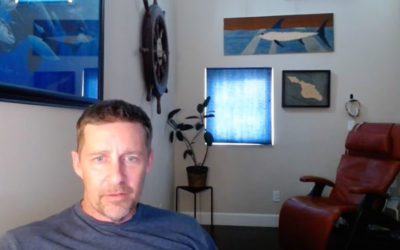 Welcome to our new vlog: Mental Health and Treatments with Dr. Jake. In this first video, Dr. Jake Hollingsworth of Pacific Psych in San Diego opens a conversation about what's happening at the clinic and in the world of mental health with an overview of drug...
read more